I received a nice email from Bro. Jim today. He is ready to get active again and even working to see what he can do about holding Lodge on the ship. Bro. Jim's daughter was just installed as Drill Leader for Evergreen Assembly as you will see by his email below the picture. Still very proud to have had Jim in our Lodge and just know that he will, in the not to distant future, end up being the Master of his new Lodge. Thank you Brother, and please stay in touch.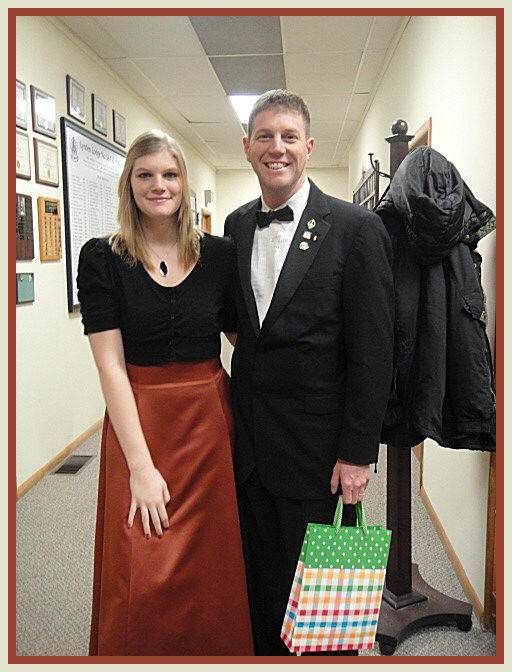 Jim and his beautiful daughter at the installation in Washington
Here is his email to us at the Samuel Warren Hackett Lodge:
(first line was personal and was removed)
Wor. Bro. Dennis,
Hello my Brother!
Saturday night was fun as I got to meet some of the Brothers that showed up for the Rainbow Installation. My daughter McKaela was installed as Drill Leader for Evergreen Assembly. It was cool because we had three generations with Masonic Heritage in the Lodge room where a fourth generation, my wife's Grandfather attended Lodge. My Mother-in-law was Worthy Advisor of Evergreen Assembly, my wife was a Job's Daughter and my daughter were all in the same room.
I talked to one of the Past Masters of Ferndale 264 and he assured me they would have a place for me when I get up there. I will let you know what it looks like once I attend and see which chairs are filled. I might even be able to pick up where I left off!
Been studying the Washington Masonic Code and the Brothers on the ship are excited that I might be able to secure special dispensation to hold tiled meetings onboard. It won't be easy, but I think I have it figured out!
The enclosed photo is of Kaela and I at installation. She did really well at floor work, must run in the family.
Miss you guys tons and can't wait to see you! Should be in the next couple months!

S&F,
Bro. Jim