On February 21st, 2017, Brother Jeremy Weber was raised to the sublime degree of Master Mason. Brother Weber was obligated a Master Mason by Worshipful David Haslim, Senior Grand Deacon, who was in the East for the degree. Worshipful Salini gave a beautiful lecture and Worshipful Haslim delivered the charge.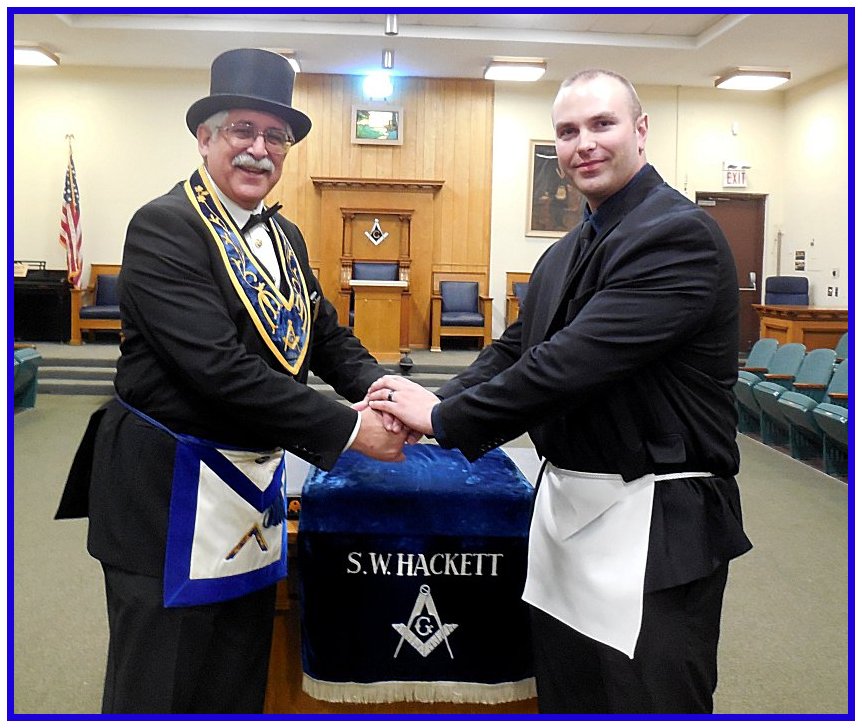 Brother Jeremy Weber is congratulated by Worshipful Haslim who obligated him a Master Mason.
Worshipful Haslim graciously accepted much more work in the degree than is normal, by opening
and obligating Brother Weber. He was then in the West for the second section, and finally he did
a great job on delivering the charge. Thank you for all your work Worshipful!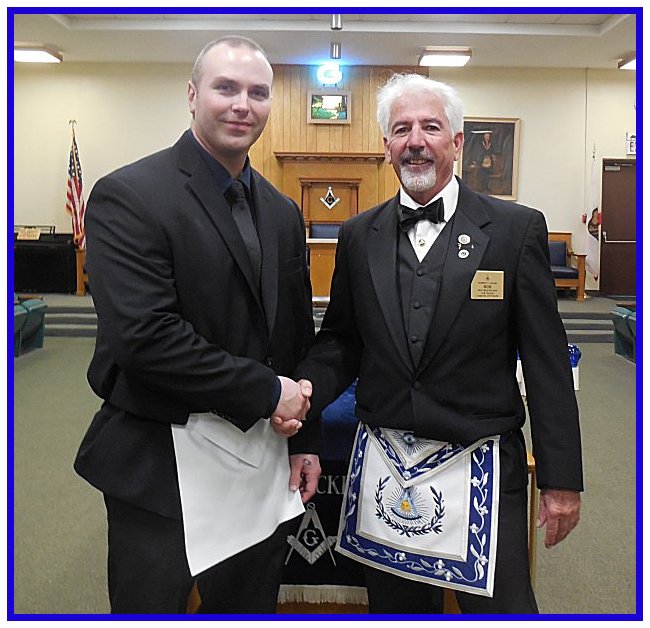 Worshipful Robert Salini, PM, Junior Warden, who presented a beautiful lecture also congratulates Brother Weber on his raising.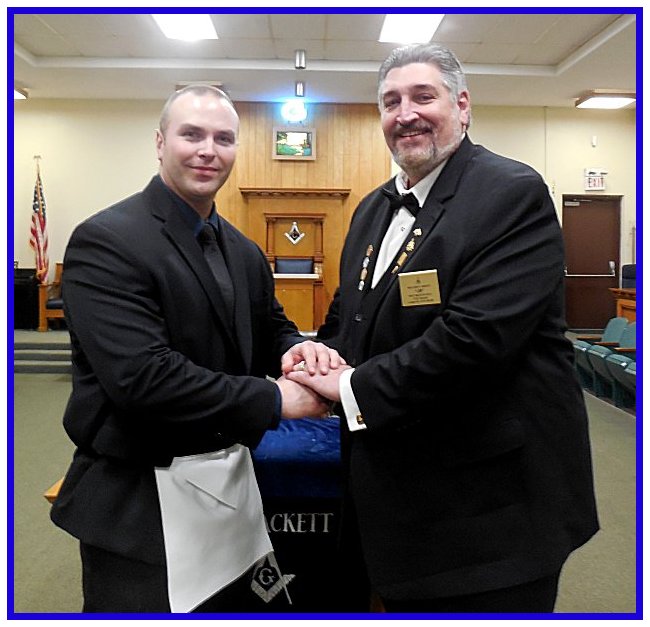 Brother Jeremy with Worshipful "JR" Knight, PM, who provided the music and inspiration for the degree.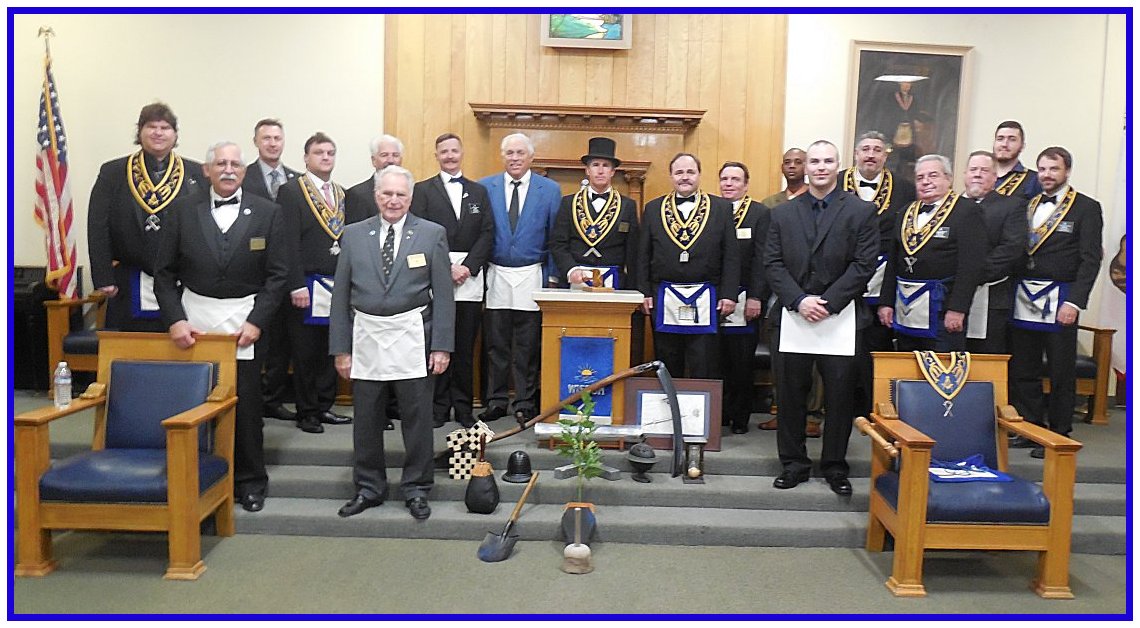 The group pose of all the officer and sideline Brothers that took part. Two important Brothers not pictured are Worshipful Clint Black, PM, and Brother Bob Gale, Junior Steward, who were preparing the refreshments for the celebration.
And, on to the refreshments and celebration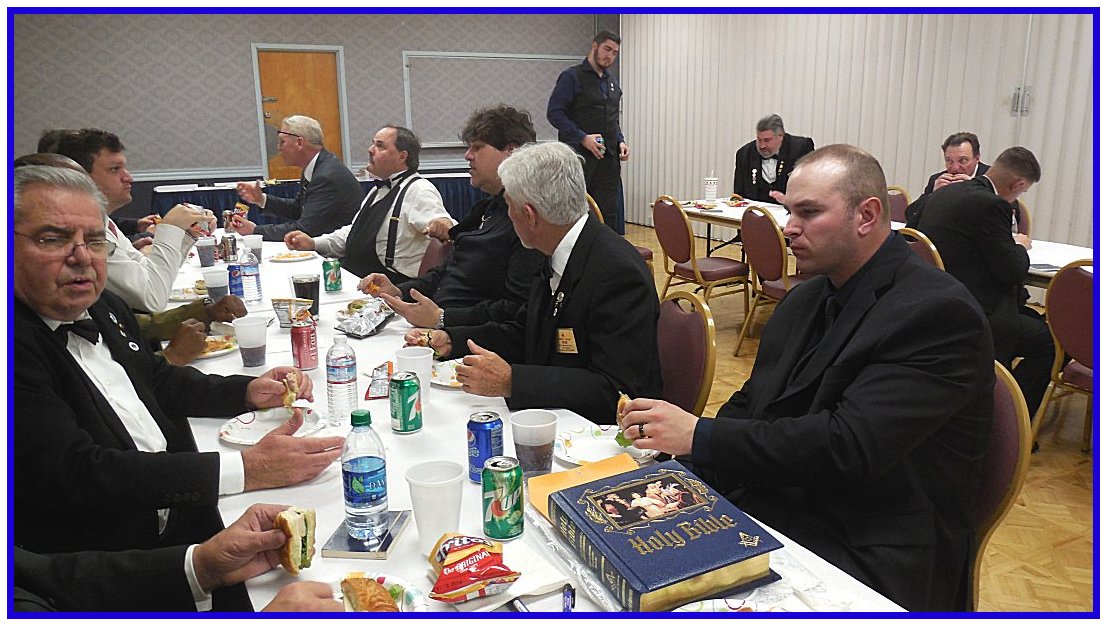 All taking part to congratulate Brother Jeremy Weber and offer wisdom and great advice.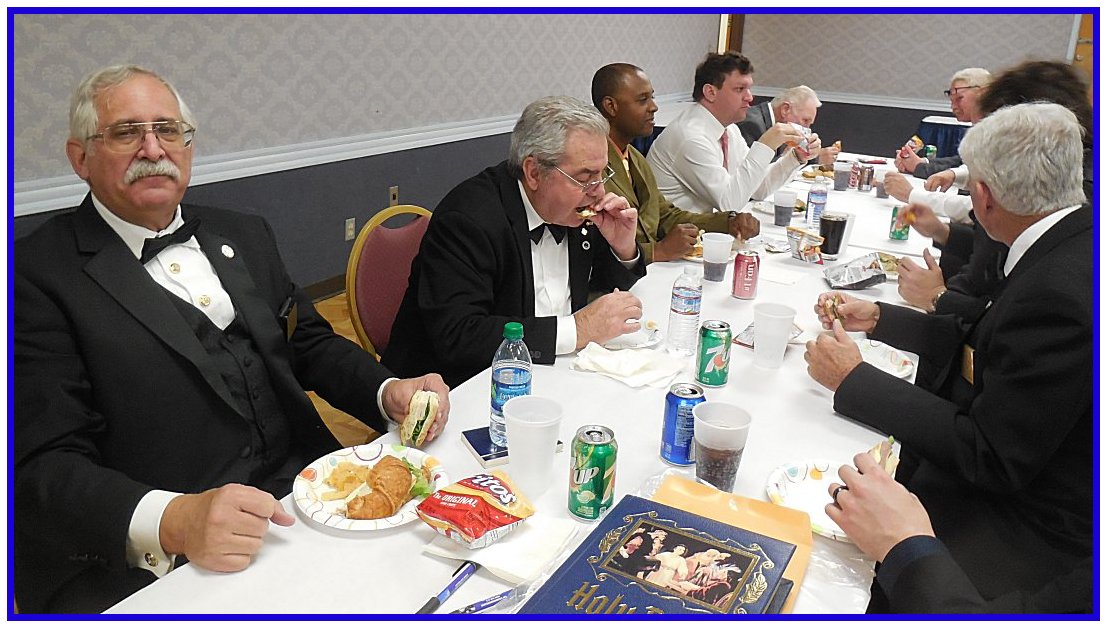 As always, working on the refreshments before each Brother individually expresses their good wishes.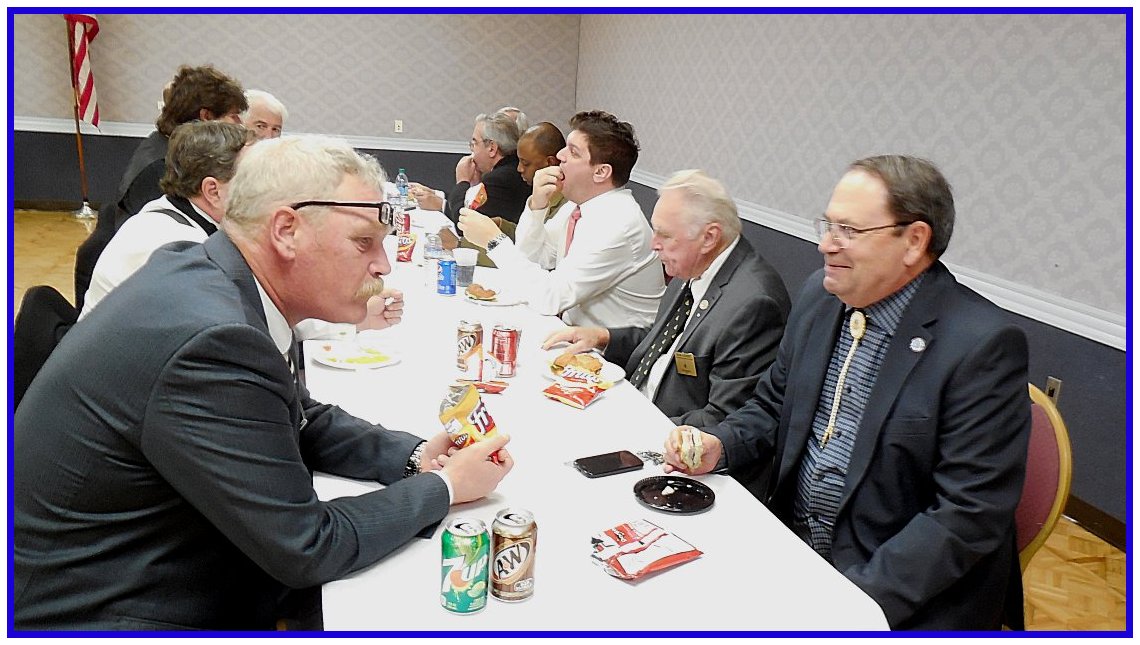 Good food and good fun on this important evening.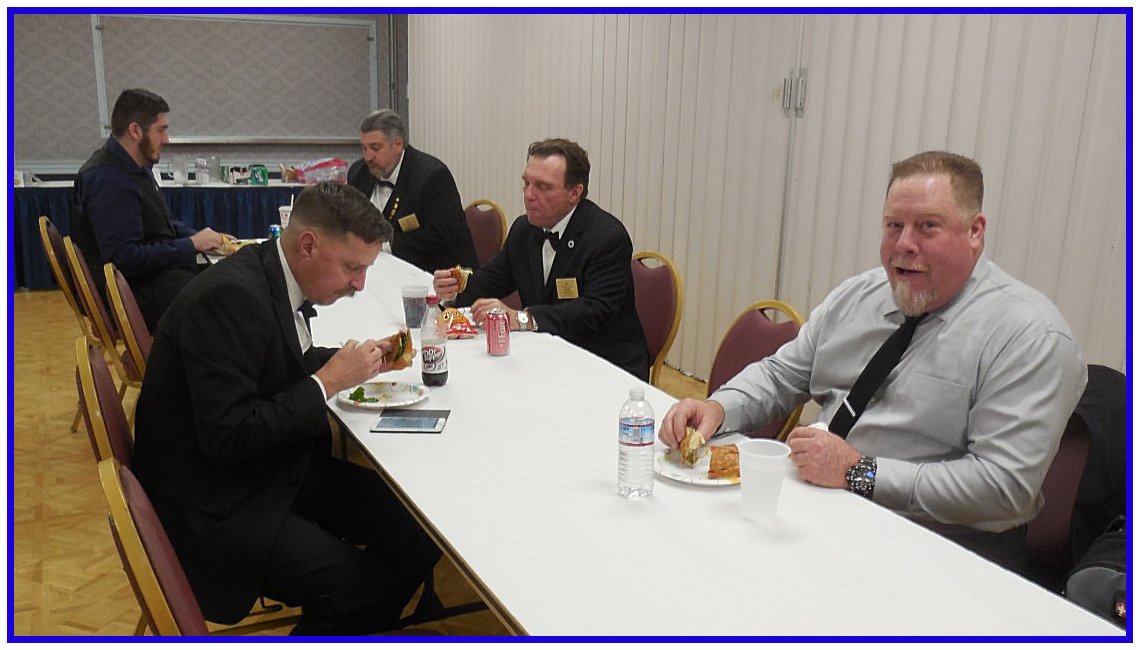 Also great was that we saw the return of some Brothers that have been away for a while... Please, keep coming back.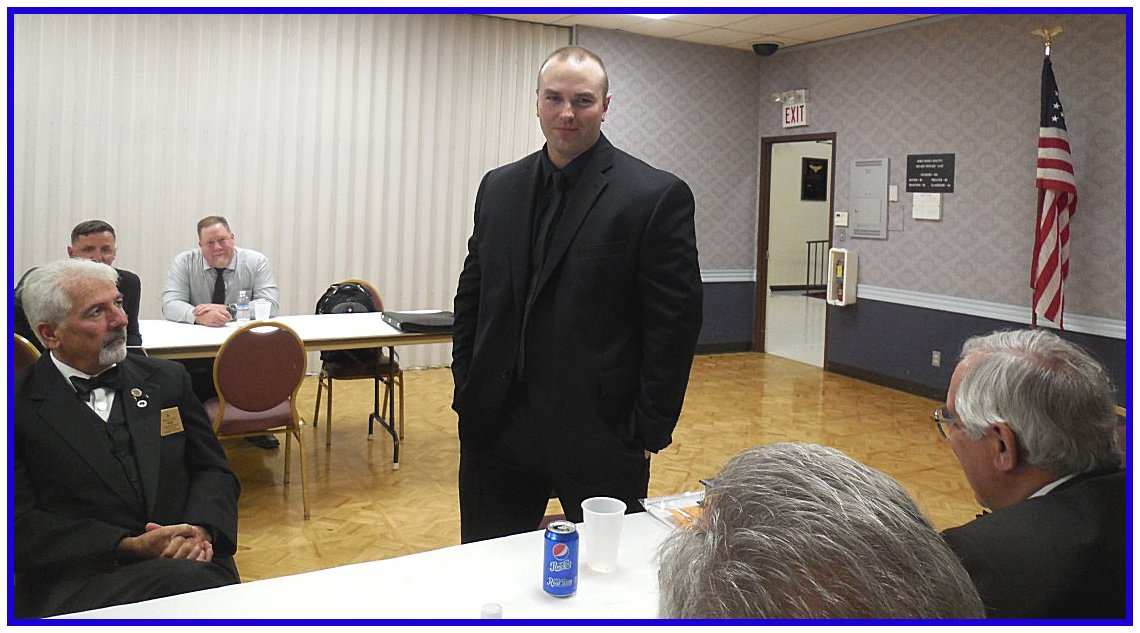 And then, our new Master Mason takes the floor to express his thanks and his welcome as a Master Mason.
The Master again thanks all involved in the degree for doing such a great job. He also thanks the Brothers that have come back after being away.
We look forward to our next degree and welcoming another Brother as he continues his Masonic journey or begins that wonderful journey.