On another "great and important undertaking", November 27th, 2012, Brother Mario Urbino was raised to the Sublime degree of Master Mason. Brother Urbino was obligated by Worshipful Michael Allen, PM, who did a great job. Worshipful David Haslim, PM, District Inspector, was in the East for the second section and did a superb presentation. Worshipful Gerald Winstanley, PM graciously agreed to give the lecture and presented it with his usual intensity and feeling. Worshipful, Jim Achenbach, PM delivered another heartfelt charge.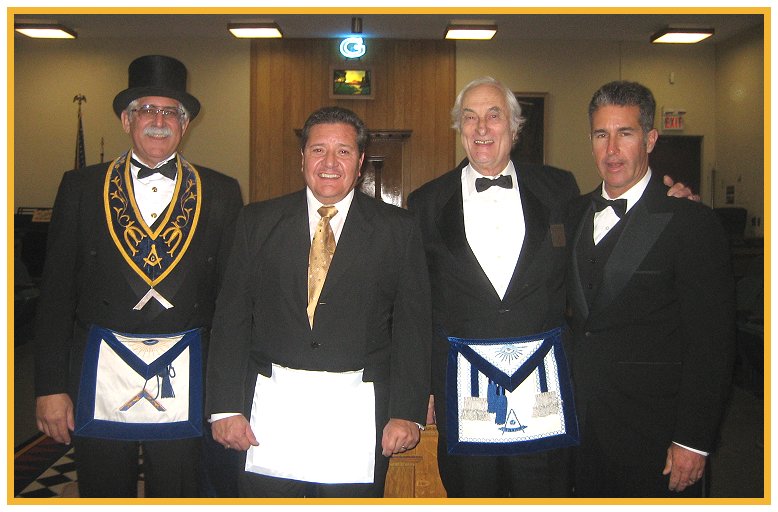 Brother Mario Urbino had a great raising as he here poses with Worshipful David Haslim, PM, Worshipful Gerald Winstanley, PM and Worshipful Michael Allen, PM.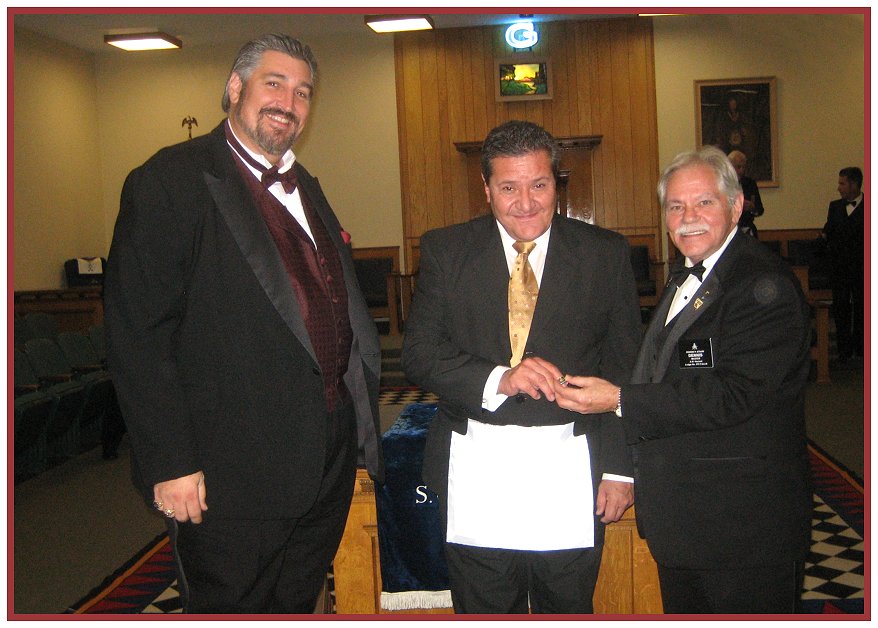 Worshipful JR Knight, PM, Master Elect, poses with Brother Urbino and Worshipful Dennis Stahr, Master, as the Master presents the Master Mason's ring to his friend and brother. Brother Urbino has had his ring for a while, and was just waiting for this evening so that he would finally wear it with great pride.
Again, the Brothers that made this great evening for Brother Urbino possible. Worshipful David Haslim, PM, Worshipful Michael Allen, PM, and Worshipful Gerald Winstanley, PM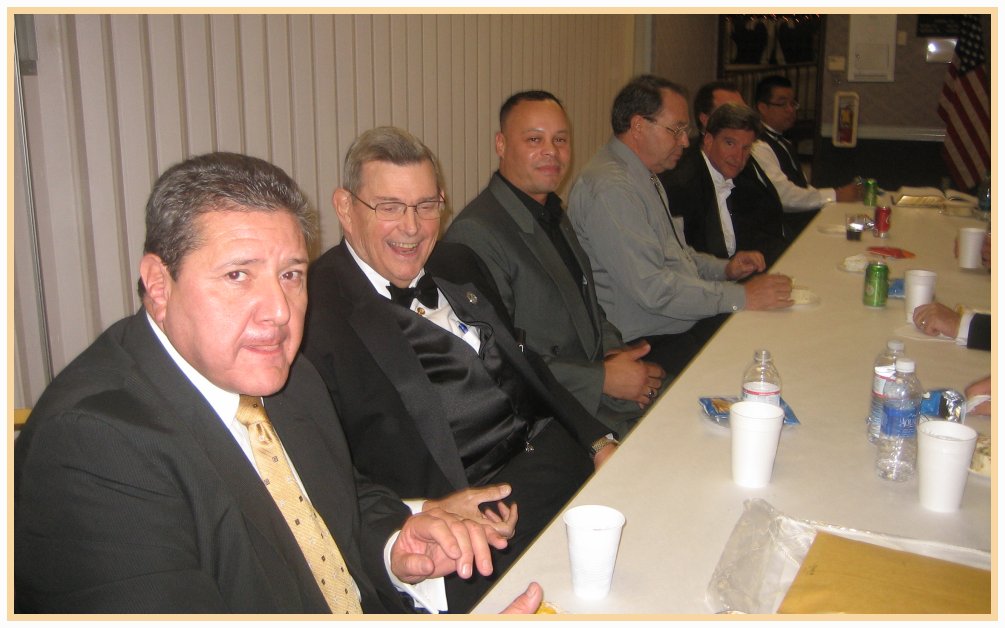 After a beautiful degree, Brother Urbino, proud and intent on progressing on his Masonic journey, enjoys the gathering and the fun as Worshipful Bob Smith, PM imparts some words of wisdom and then give Brother Mario a hard time, with a smile.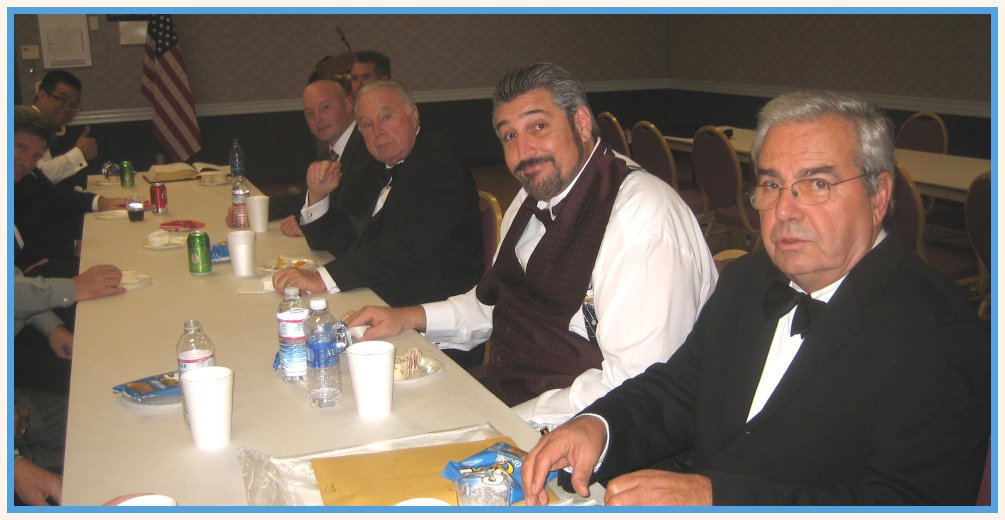 Worshipful Dimiter, PM appears concerned and ready to present Brother Mario with his "prize" for the night, his dues request, with Worshipful JR, PM, and the others looking on.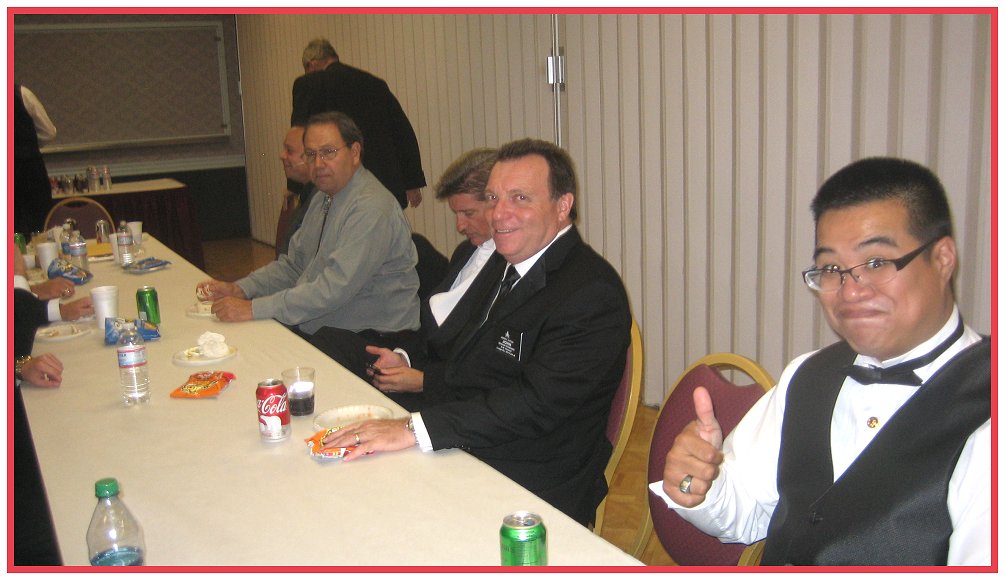 Closing out the evening, Brother Ryan Bacaoco, Senior Warden Elect gives the thumbs up for approval of this important event. Brother John Fitch, Junior Deacon, Worshipful Jim Achenbach, PM (texting I'm sure) and Worshipful Clint Black, PM, Head Candidate's Coach also approved.
Thanks again to all who helped make this a great raising!