<![if !vml]>

<![endif]>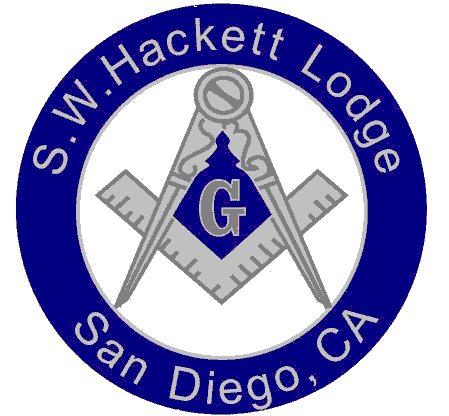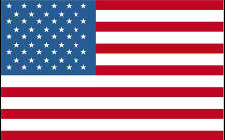 <![if !vml]>

<![endif]>
<![if !vml]><![endif]>
<![if !vml]>

<![endif]>
FROM THE PILLAR OF WISDOM
Greetings Brethren and Friends:
May is upon us and our lodge officers continue exemplifying their excellent degree work and as always, I want to encourage any Brother to come out and assist us in providing our candidates with the best possible experience. Remember, every Tuesday is Lodge Night.
Fraternally,
Kyle Dau, PM, WM
TRAVELLING EA PROGRAM
Calling all Master Masons! We need your help! Section §804.860 of the California Masonic Code states: An Entered Apprentice may sit in the Lodge in which he has received the degree or degrees when open in a degree taken by him, while he conducts himself with due order and propriety. He may advance after satisfactorily passing a strict examination in a tiled Lodge. He may visit another Lodge working in a degree taken by him, with the consent of the Master of his Lodge and the consent of the Master of the Lodge visited, if accompanied by a Master Mason who has sat with him in a tiled Lodge and vouches for him.
For our "Travelling EA Program to work, we needed Master Masons to accompany our EAs and FCs to other Lodges and Masonic activities. For more information on how you can help, please contact the Master or any Officer of the Lodge.

Thank You.
<![if !vml]>

<![endif]>
FROM THE PILLAR OF STRENGTH
Brethren and Ladies;
Last month several Brethren made a visitation to Adolphus Gustavos Lodge in Lemon Grove to support their work in initiating five new Brothers. It was a memorable evening capped off with an excellent dinner afterward.
Several of us also had the opportunity to take in a Brother being raised in Amity Lodge. An outstanding display of degree work in which the Assistant Grand Lecturer Jim Karrupas, PM, and Divisional Inspectors Dave Haslim, PM and John Heisner, PM participated.
In support of Masonic youth a visitation of Job's Daughters Bethel 40 by several members of your lodge occurred on April 21. Hopefully we can show similar support for Kimball Chapter DeMolay on May 8th at 3PM. They will be holding 3rd ever Installation that Saturday afternoon at Southwest Lodge in National City.
Spring is in the air despite the recent stormy weather. I hope everyone is enjoying this beautiful time of year.
I look forward to our Shrine Camp lodge outing on Mount Laguna. As the dates are July 9 – 11 the weather should be considerably warmer this year. Thanks to Judy and Clint Black, PM for making advance reservations and coordinating things.
Sincerely and Fraternally,
Steve Laurvick, SW
<![if !vml]>

<![endif]>
FROM THE PILLAR OF BEAUTY
Brethren and Ladies;
The Missing Stones
Freemasonry includes comprehensive lectures on the working tools used by operative Masons, but some other important elements of the ancient symbolism, especially in respect to the stones used in buildings is missing. In the degrees of Freemasonry the candidate is represented by a particular stone. The rough and perfect ashlars are important symbols in the speculative craft and degrees. However, many speculative Freemasons are not aware of several other important stones and their symbolisms. Only three of many are discussed here.
A cubical stone is rarely used in masonry structures except to complete a course adjacent to openings. Nevertheless it was an important stone used to test the skills of an apprentice who aspired to become a fully qualified craftsman. Most of the stones used in the construction of masonry walls are running stones, used in alternate courses they are staggered as in brickwork, to avoid the joints being aligned in successive courses, which would be detrimental to the strength of the structure. These stones remind us of the need to work in harmony with our fellow workers and that everything we do must be straight, level and true. The footing corner stone is another very important stone in masonry structures. This stone ensures that the running stones in adjoining walls mesh. It reminds us that our strength is in a united effort.
It is also important to consider the various shapes in plans that have been used through the ages. Rectangular shapes are by far the most common, but many other shapes of significance have been used for special purposes. Each shape has a symbolism of its own, but here, we will consider two of the more complex shapes, the hexagon and the octagon. The hexagon is the perimeter of six equilateral triangles. All of the symbolisms of an equilateral triangle apply and, in addition, the number six is a symbol of accomplishment of growth or purpose. The hexagon is the shape of the cells of a honeycomb, which symbolises industry and reminds us of honey, the symbol of spiritual food and nourishment, and of the celestial food of wisdom and love. The octagon is composed of eight isosceles triangles each with its apex angle of 45º meeting the others. The legs of the compass are commonly extended to an angle of 45º in Freemasonry. Eight is called the number of regeneration and is a symbol of entrance into a new state or condition of the soul. The square is the shape of every side of a perfect cube and therefore is the view of both elevations of the Holy of Holies in the tabernacle and in the temple of King Solomon, symbolising the need for the higher minds and intellects of humans to be in harmony with God. The temple square, or triple square, was the template of the tabernacle and the temple. It included the Holy of Holies and thus symbolizes the progress that humans must make from a mundane existence to the spiritual world if they are to partake in life eternal.
Sincerely and Fraternally,
Dennis Stahr, JW
<![if !vml]>

<![endif]>
LADIES CORNER
Thank you to Maebelle for the fun table decorations at the April Stated Meeting Dinner. We also want to thank Susie for teaching us a new card game and congratulations to Margaret, Amy and Tara for winning and collecting the chocolate Easter candy. Don't forget to give Wor. Gamache (our hard working Secretary) your deposit for the fun weekend at Laguna Shrine Camp coming in July. Most important, when you see a sailor or soldier, thank him/her for the freedoms we have because of their dedication to this great country!
See you in March,
Marty
<![if !vml]>

<![endif]>
SHRINE CAMPING TRIP
S. W. Hackett Lodge annual camping weekend at Shrine Camp in the Laguna Mountains will be July 9th and 10th. To date four cabins have been reserved and two remain available Dorm rooms 1 & 2 (single queen beds) and 3 & 4 (three double bunk beds) remain available.
Cabins rent for $55 per night and dorm rooms rent for $25 per night.
RV spaces at $15 per night (water & power only) are available, and tent spaces at $7 per night are available.
If you haven't yet made reservations contact Clint Black, PM, immediately. Clint may be reached at 858-538-3051 or mohic47@gmail.com.
<![if !vml]>

<![endif]>
<![if !vml]>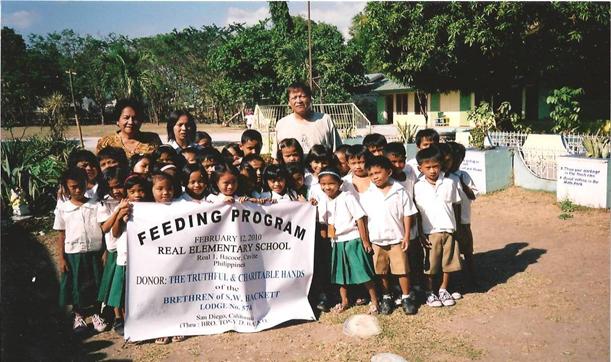 <![endif]>
BROTHER TONY BALAT AND STUDENTS OF REAL SCHOOL IN THE PHILIPPINE ISLANDS
Our Brother Tony Balat recently visited his home village in the Philippine Islands, and while there donated funds to support feeding the students of Real Elementary School. The banner may be too small to read in this picture, but Bro. Balat made his donation in S. W. Hackett lodge's name. He writes that he realized the virtue of Charity through the moral precepts of Masonry. Bro. Balat was raised Feb. 27, 1997 in your lodge.
<![if !vml]>

<![endif]>
WANTED
The ladies of S. W. Hackett Lodge #574 are producing a cookbook of fun, quick and easy meals and time saving tips; and hope that you will share your favorites that fit today's "on-the-go" lifestyle. To avoid any of those nasty copyright problems, be sure these are your own creations.
Please bring your contributions for the cookbook with you when you attend the Stated Meeting dinners. If your schedule does not permit your attendance at dinner, please email to me at masonic574@irfutures.com, or fax to 858-484-3484 (no cover page needed). Please make sure they are legible, and include your name and how we may reach you if we have questions.
We look forward to your help making this project a success, so we can all prepare those quick and easy meals, and help our favorite Masons get to Lodge on time.
Thank you,
Ingrid
<![if !vml]>

<![endif]>
DID YOU KNOW?
The California State Flag History.
The Bear Flag was designated California's State Flag by a legislative act in 1911. It is patterned after the historic flag flown at Sonoma on June 14, 1846, by a group of American settlers in revolt against Mexican rule in California. This short lived revolution ended July 9, 1846. The design and general details are set forth in Section 420 of the California Government Code. Submitted by Clint Black, PM.
<![if !vml]>

<![endif]>

EDITOR'S NOTE
Your items of Masonic Education and general interest are always welcome and earnestly requested. Just be sure to have them to me no later than May 21st. You may contact me by email uglidedc@cox.net or telephone 760-751-3469.
Fraternally, Dick Covert, PM Editor
<![if !vml]>

<![endif]>
MAY STATED MEETING DINNER MENU
Fruit Salad
Meat Loaf
Chicken ala King
Twice Baked Potatoes
Steamed Broccoli
Assorted Rolls
Assorted Hot & Cold Beverages
Iced Brownies
<![if !vml]>

<![endif]>
FROM THE SECRETARY'S DESK
Your Lodge pays for dinners we reserve and do not use due to lack of information regarding your planned attendance at Stated Meeting Dinners. PLEASE, if you are on the dinner reservation list and cannot attend dinner, let me know at least the Friday prior to Stated Meeting so I can adjust the quantity of meals we need. Likewise, if you are not on the reserved list, call and let me know you are coming so we have enough meals ordered. Check with our Bro. Treasurer Jim Achenbach, PM to learn if you are on the reserve list.
Fraternally, John S. Gamache, PM, Secretary

<![if !vml]>

<![endif]>
MAY BIRTHDAYS
14 Robert Smith, PM
15 Robin Romero
20 Leonard Kulhanjian
21 Dimiter Lyakov, PM
22 Michael Martin
23 Gary Jones
25 Richard Applestill
26 Luiz Deorsola
26 George Glavis, PM
27 Robert Strangman
28 Geordan Mitchell
29 Claude Woods
<![if !vml]>

<![endif]>
ECHOES FROM THE PAST
61 Years
Matthew Botu MM 5-24-1949
58 Years
Bill E. Smith MM 5-13-1952
58 Years
Alfred Strickman MM 3-20-1952
50 Years
Robert Hutchinson MM 5-25-1960
45 Years
Dale McLellan MM 5-11-1965
<![if !vml]>

<![endif]>
<![if !vml]>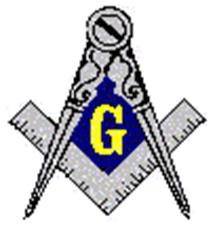 <![endif]>