On June 12, 2013, Sequoia Elementary School honored Samuel Warren Hackett Lodge at the "Bop Till You Drop" celebration for the volunteers that work with the school to help it in any way they can. With Hackett's sponsorship of the Spelling Bee, with its honoring of the Sequoia Teacher of the Year and its Christmas assistance event, Principal Ryan Kissel presented a plaque of appreciation to our Lodge.
The fun event had a 60s theme which included 60s music playing in the background and photos posted on the wall. For lunch there was a choice of a hamburger or Turkey Burger with sides of French Fries and Cookies, with Lemonade, Ice Tea or Water, and for dessert - Milk Shakes. Worshipful Jim Achenbach, PM, enjoyed dunking the cookies in his milkshake as the teacher who made them did an excellent job. At the end of lunch there was a raffle with school T-shirts for the winners. Teachers gave out certificates in thanks to those who helped make a difference with the school and its students. To top it all off, there were parting gifts of a box of M&Ms or sweetened stirrers for coffee. The Brethren, with their sweet tooths, all chose the M&Ms.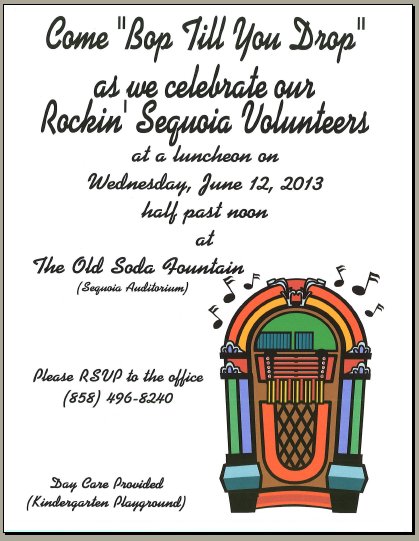 The invitation was creative and cute and the celebration was fun for all.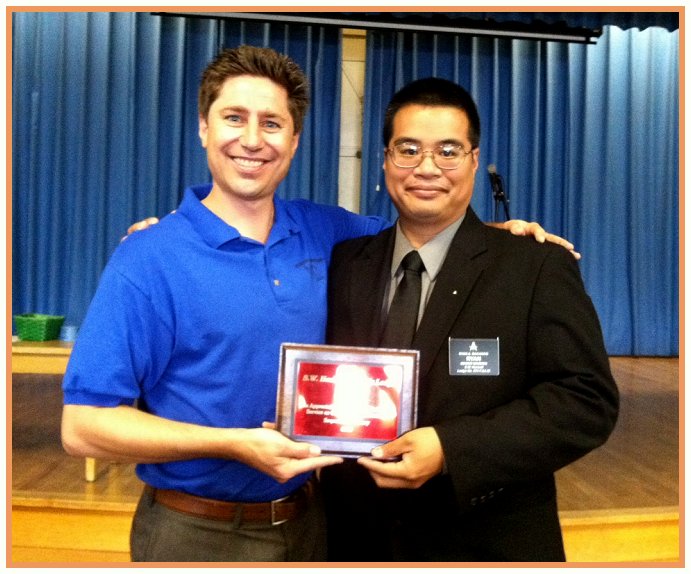 Brother Ryan Bacaoco, Senior Warden received the plaque from Mr. Ryan Kissel, Principal of Sequoia Elementary School.
The plaque reads:
Presented to S.W. Hackett Masonic Lodge No. 574
in appreciation of 8 years of dedicated service
as Our Partner of Education
Sequoia Elementary
2013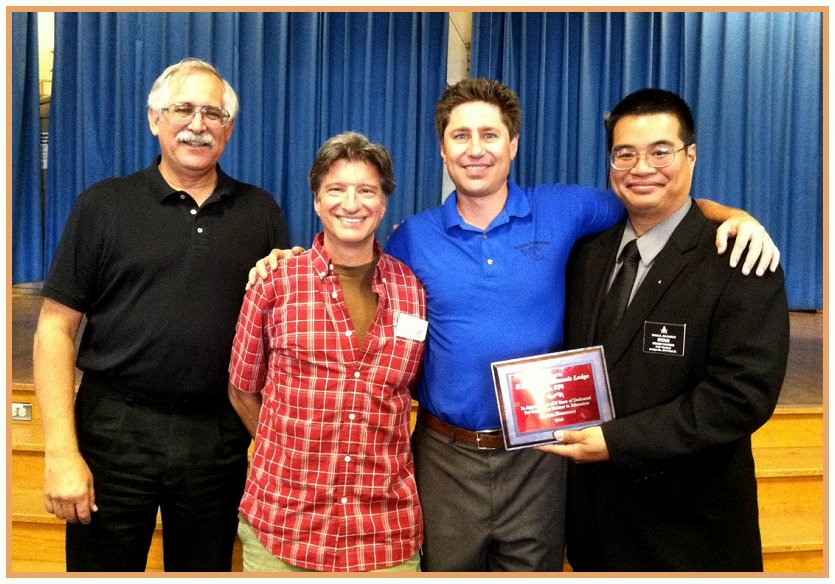 Others in attendance for the event were Worshipful David Haslim, PM and Worshipful Jim Achenbach, PM, the Brother in charge of the Partnership in Education program for SW Hackett for many years.
Thank you Principal Kissel and thanks again to Sequoia Elementary School.