Who Was S. W. Hackett?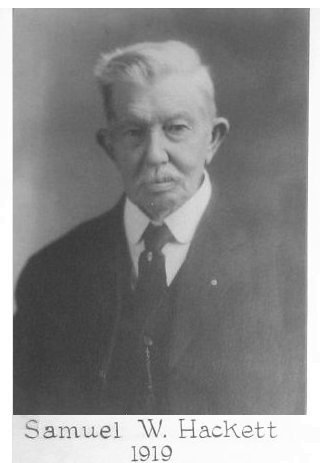 Captain Samuel Warren Hackett, Master of San Diego Lodge #35 in 1919, and the namesake of our Lodge was born December 27, 1836 in Massachusetts. His father was also Samuel Warren Hackett and his mother was Augusta Alden Cole, a descendent of John Alden of Mayflower fame.
At the age of 16, he went to sea, and in 1858 he arrived in California by way of San Francisco. He came to San Diego as a whaler and settled near the current site of Fort Rosecrans on May 11, 1867. He married Mary Refugia Wilder in Old Town on May 20, 1867. He continued to make whaling trips, but in 1869 he sold his whaling interests and started in the cattle business in southern California.
Samuel Hackett and Mary had two children, a boy who died very young and a daughter who remained in San Diego. Mary Hackett died in 1873. Samuel Hackett sold his cattle business in 1878, and, being the true definition of a seafaring man, joined the steamer Gipsy, running between San Diego and San Francisco. A year later he joined the schooner, Fanny, as a sea otter hunter near Siberia and Japan.
After his days at sea, he went into the bee business here in Bernardo. Then in 1882 he bought a United States Mail contract to carry mail from San Diego to Temecula. He drove more than 22,000 miles a year during the time 1882 to 1886, and got the nickname" O. T. Hackett" because he was always on time with his deliveries.
He married Carrie V. Lithgow Bentzel in 1880. They had one daughter. He was elected City Alderman March 7, 1898, and in 1900 was elected as Superintendent of Streets. Finding that job unrewarding, he resigned in 1905 to care for the 10 acre lemon orchard he owned. He entered into rest November 28, 1920.
Brother Hackett received the Degrees of Masonry in 1866: became a member of San Diego Royal Arch Chapter in 1883: became a Sir Knight of San Diego Commandery No. 25 in 1901: and a Cryptic Mason in San Diego Council 23, Cryptic Masons in 1910. He was honored by being elected to, and presiding over, these bodies.
The founding Brethren of S. W. Hackett Lodge 574 honored him further by naming our Lodge for him in 1923.