SW Hackett Lodge, on October 9th, 2012 is proud to receive, Brother Christian Rowden as its next Fellow Craft Mason. Brother Christian has worked very hard to move forward. With another little Rowden on the way and only a little over a month left in the service, Brother Christian is busy, for sure, but his enthusiasm for Masonry and is desire to be a Master Mason by year's end has paid off as he presented a nearly flawless 1st degree proficiency.
Brother Christian was obligated by Brother Ryan Bacaoco, Junior Warden. Worshipful Dennis Stahr, Master, gave a great lecture and Brother Bacaoco also delivered the charge.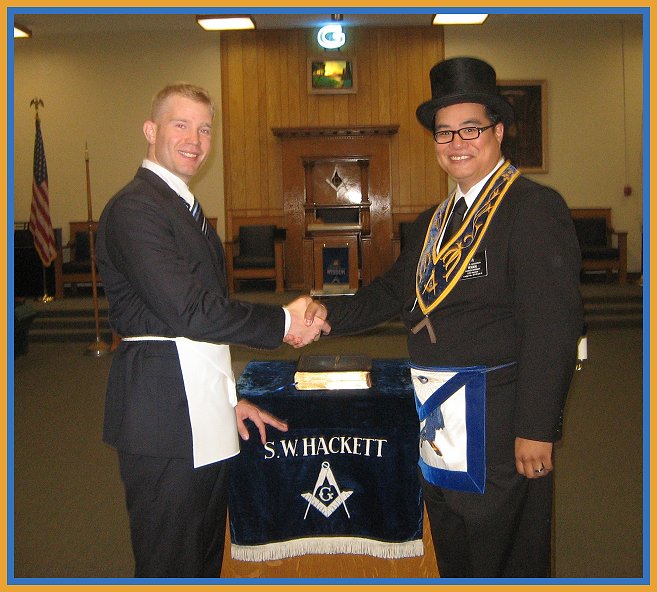 Only a month ago, this scene was for Brother Christian's initiation into the fraternity, and now, he is congratulated by Brother Ryan Bacaoco, Junior warden, who was again in the East and Mastered a great degree.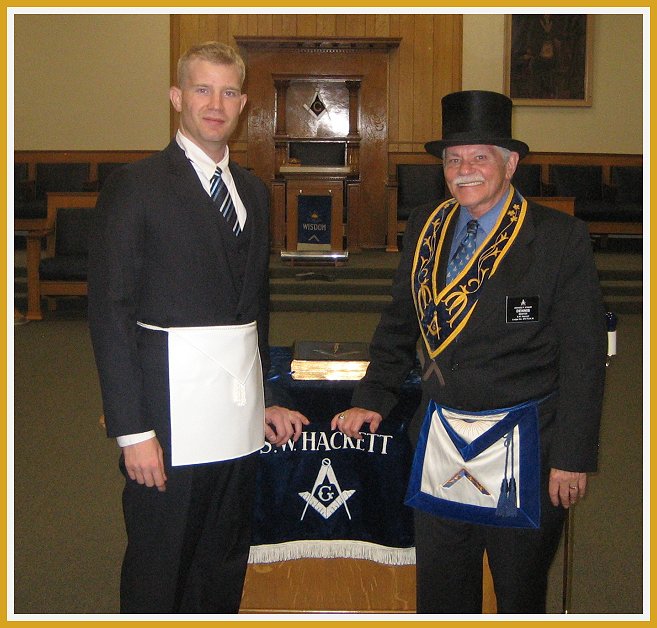 Wor. Dennis Stahr with a proud new Fellow Craft, Brother Christian Rowden.
Following Brother Rowden's passing to Fellow Craft, we also witnessed the 2nd degree proficiencies of Fellow Crafts Brother Anthony Knight, who will be raised to Master Mason on October 23rd during Past Master's night and Brother Mario Urbino who is scheduled to be raised to Master Mason on November 27th.... Congratulations Brothers.