At the Stated Meeting of February 5, 2013, Samuel Warren Hackett Lodge was honored by the visit of two Brothers from other countries.
Worshipful Brother John Harris, PM of Faith & Friendship Lodge No. 7326 of London England. Worshipful John is a good friend of Worshipful Winstanley, PM, and when he gets to the San Diego area he visits different lodges. I am told by Wor. Winstanley that Wor. John is looking forward to a return visit to SW Hackett. Wor. John, we look forward to it and are anxious to see you again.
Brother Christopher Bailey is a member of Bedford Lodge No. 104 in Bedford, Nova Scotia. Thank you so much Brother for visiting us and please do return.

To both of these Worthy Brothers, we thank you and Master William "JR" Knight hopes that you will extend an invitation to the Brethren of your lodges to visit us if they can and he also extends a welcome and Brotherly love to all those Brethren.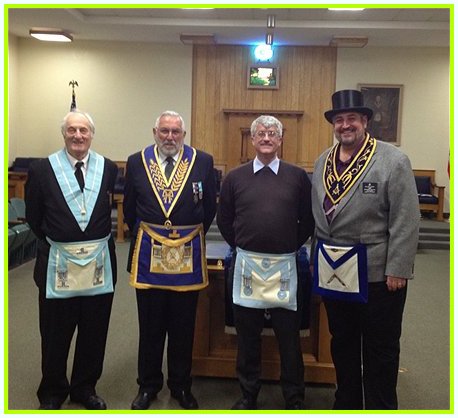 Left to right: Worshipful Gerald Winstanley, PM, Worshipful John Harris, PM, Brother Christopher Bailey, Worshipful William "JR" Knight, PM, Master of SW Hackett Lodge.