Updated December 12, 2012

Brother Hackett sent me another package which included this great picture of Brother Bill, Assistant Secretary. He also sent me a Masonic tie that was: "Designed and Approved by the United Grand Lodge of England". I will definitely wear it with great pride, honor and respect.

Thank you again very much Brother Bill.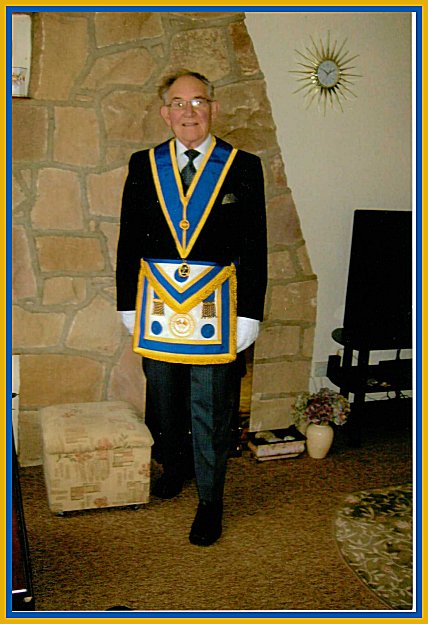 Update, December 5, 2012
Brother Bill Hackett received my package and send a truly beautiful email posted below.

Hi Brother Dennis,
Many thanks for the wonderful Package that I received this morning with my Mail. It was a joy to receive it; to have this beautiful Friendship across the sea is truly amazing; to think it started with a surname Hackett!!!
Thank you most warmly for the contents of Package; The papers are being read and Treasured and shared with Malcolm Lodge Sec.
To receive a Grand Masters pin for 2013 for me is an honour of the highest order; I shall wear it with Great Pride and Humility. I am sure it will be Topic of many conversations as I travel around Leicestershire, Derbyshire and Warwickshire Provinces [as you see we live in the heart of England known as The Midlands].
Your Lodge is in good heart and fine spirits thanks to the Hard work of Yourself and dedicated Brethren; Yes would dearly like to visit but being of mature years [76] but still very active our holidays are now confined to Devon and Cornwall; far enough to drive 230 miles to the Coast. By the same token if You or any of the Brethren get over to the UK Please contact us, it would be Great to Meet Up.
Thanks again for the Package it is Greatly Appreciated.
Sincerely and Fraternally.
Bro Bill Hackett
---------------------------------------------------------------------------

On the 3rd of November, I received this email from Brother C. William Hackett
(Very neat to hear from a Brother with the namesake of our Lodge)
Hearty Greetings, From Ferrers & Ivanhoe Lodge, Ashby-de-la-Zouch, Leichestershire England.
Really enjoyed looking at your website. You surely know how to enjoy yourselves. Our lodge meets 2nd Tuesday of each month, with approximately 60 members WO.
I would be happy to send a copy of the Summons to you, I will require a land address if you are agreeable.
YOURS FRATERNALLY
CHARLES WILLIAM HACKETT
(and his address followed)
The History of Ferrers and Ivanhoe Lodge
Consecrated 1859
This history can be found on their website at: http://www.ferrersandivanhoelodge.org.uk/
But I received it in a nice email from Worshipful Brother Malcolm Talbot, Secretary.

The first Freemasons Lodges in Ashby-de-la-Zouch were set up by French prisoners- of-war who were living on parole in the town during the Napoleonic War. One is known to have been working in 1810 and another was in operation in 1814. There were English Freemasons in Ashby at that time as the records of the Tyrian Lodge 253, at Derby show that several residents of Ashby and Coleorton were initiated in that Lodge between 1796 and 1814.
However it was not until 1836 that the first Ashby Lodge, Ivanhoe 631, was formed, but this was short-lived, no meetings being held after 1841 and in 1851 it was erased from the roll of Lodges. A few years later strenuous efforts were made by Earl Howe, the Provincial Grand Master with the active support of the 9th Earl Ferrers and Edward Mam-matt, who had been a keen member of the Ivanhoe Lodge, to revive Freemasonry in Ashby, and in February 1859 a warrant was granted by Grand Lodge. The new Lodge was to be named Ferrers and Ivanhoe No. 1081 and was to meet in the Town Hall on the Monday on or after the full moon of every month.
Earl Ferrers was designated as Worshipful Master but he died before the consecration of the Lodge in October 1859.
Edward Mammatt was installed as the first Worshipful Master but he too died only six months later. The Brethren were thus deprived of the guidance of two experienced masons at a very early stage, but under the watchful eye of the Deputy Provincial Grand Master, W.Bro. William Kelly the Lodge prospered and increased in numbers. In 1863 the number of the Lodge was changed to 779 and in the same year St Augustine's Chapter 779 commenced working in Ashby.
In 1879 when St Helens Church was undergoing restoration the Lodge presented a new pulpit to the Church and in 1897 a special meeting of the Lodge was held to lay, with Masonic honours, the Foundation Stone of the new Cottage Hospital in Leicester Road.
By the 1970s the Lodge membership had reached 100 and in 1975 a warrant was granted for a second Lodge, Hastings 8695 to be formed in Ashby. Both Lodges met in the Town Hall as 779 had continued to do for over 100 years but in 1978 premises suitable for conversion into a Masonic Hall were found in Lower Church Street and were brought into use in 1981.
As Ferrers and Ivanhoe Lodge moves into the 21st Century we look forward to further building on the foundations laid by our predecessors a century and a half ago.
Of course I answered Brother Bill's email and was so pleased when I received a package from him with the shown items below enclosed. I have sent a package to Brother Hackett with some SW Hackett Lodge items and Grand Master John Lowes' lapel pin for 2013. I also asked Brother Bill to convey our fraternal best wishes to Master, Worshipful Brother Starkey, and all the Brethren of his lodge.

You can click on the smaller images to view a larger, more readable version
Lapel Pin that I now proudly wear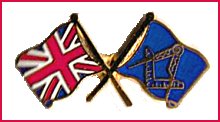 Installation Festival Program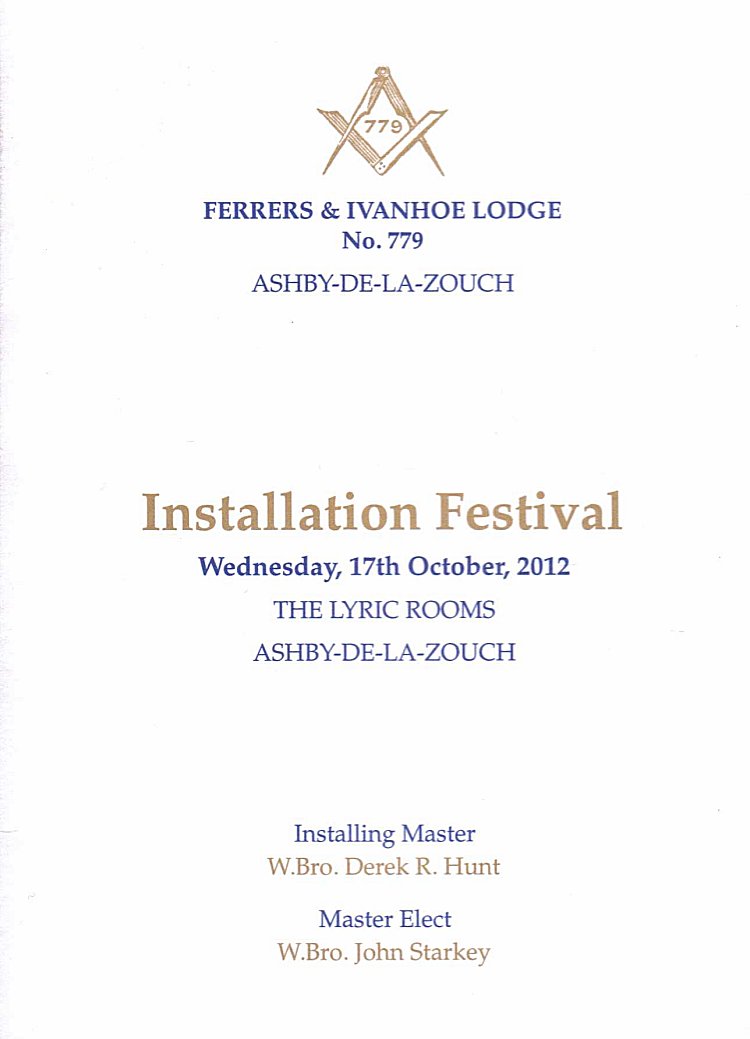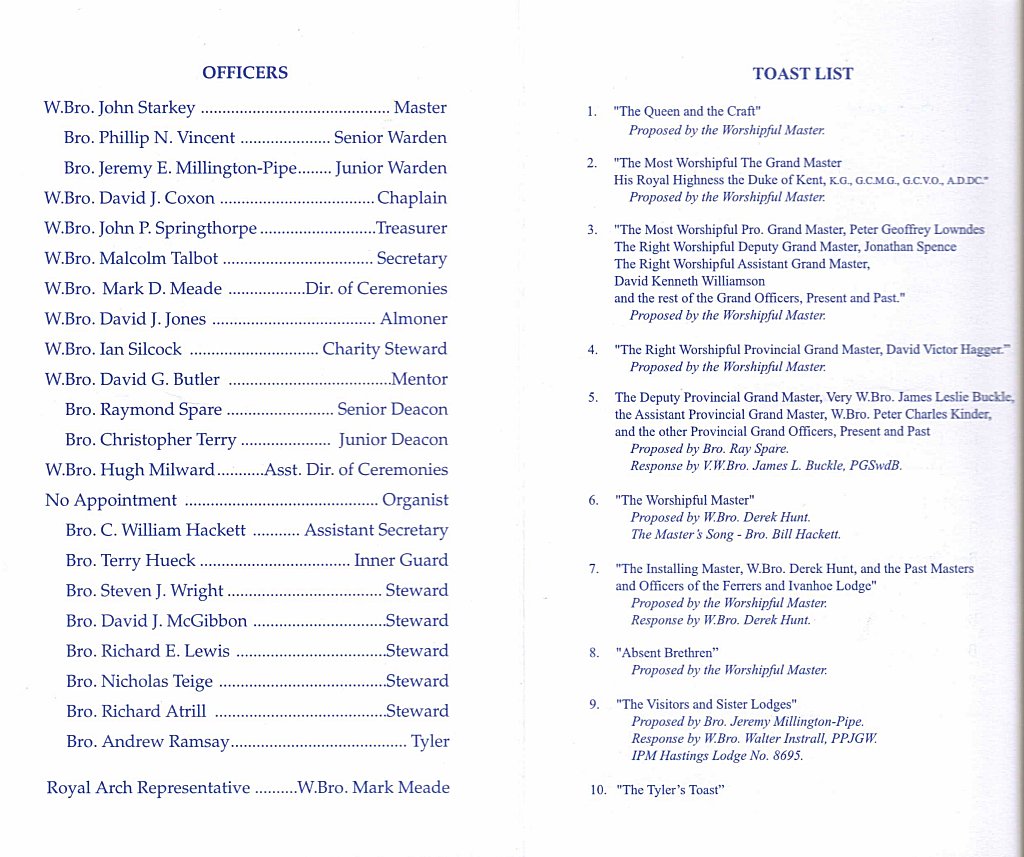 The Summons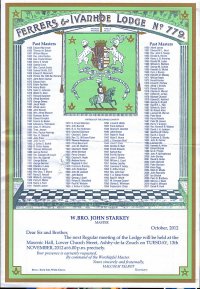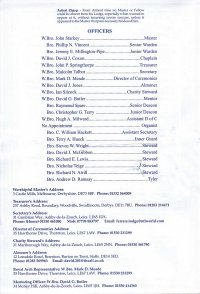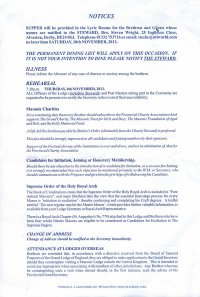 Thank you Brother Hackett. Your kindness is truly appreciated!