From Bro. Dennis Stahr, JW, SW Hackett Lodge, #574
EA & FC Night III was held on Thursday December 2, 2010 at East San Diego Lodge #561.
I want to sincerely thank Wor. Abel Parra, PM, Master, for allowing us to hold this event in his Lodge. I also thank all of officers of both Lodges who gave of their time to make this night a success, and to all the Brothers; Entered Apprentices, Fellow Crafts and Master Masons who attended.
Wor. Jim Achenbach, PM, gave a talk on Masonic education surrounding the significance of the EA ritual and obligation, and hinted at the mysteries to come as a Brother advances to the Fellow Craft and on to the Master Mason degrees.
Of course, the Brothers were there to hear the presentation of Brother David Watson. David always inspires the desire for more information and those in attendance have also always asked "When will the next presentation be held?". Yes, there are deeper mysteries and Brother David makes one want to continue his journey into those mysteries.
I thank Wor. Jim and Bro. David very much for their assistance and presentations.

---
I must apologize: Because I was late with the pictures, I missed getting pictures of some of the officers that assisted with the line. I was in the East as Master for the event, and we had a line made up from both lodges. I would like to name the officers as best I can. Thanks to:
Wor. Mike Zdravkovic, PM - Senior Warden
Wor. Lee Plastik, PM - Junior Warden
Wor. Will Hays, PM - Treasurer
Wor. John Gamache, PM - Secretary
Wor. Jim Achenbach, PM - Chaplain
Bro. Jim Williams - Senior Deacon
Bro. Steve Laurvick - Junior Deacon
Bro. Robert Gale - Marshall
Wor. JR Knight, PM - Senior Steward
Bro. David Casper - Junior Steward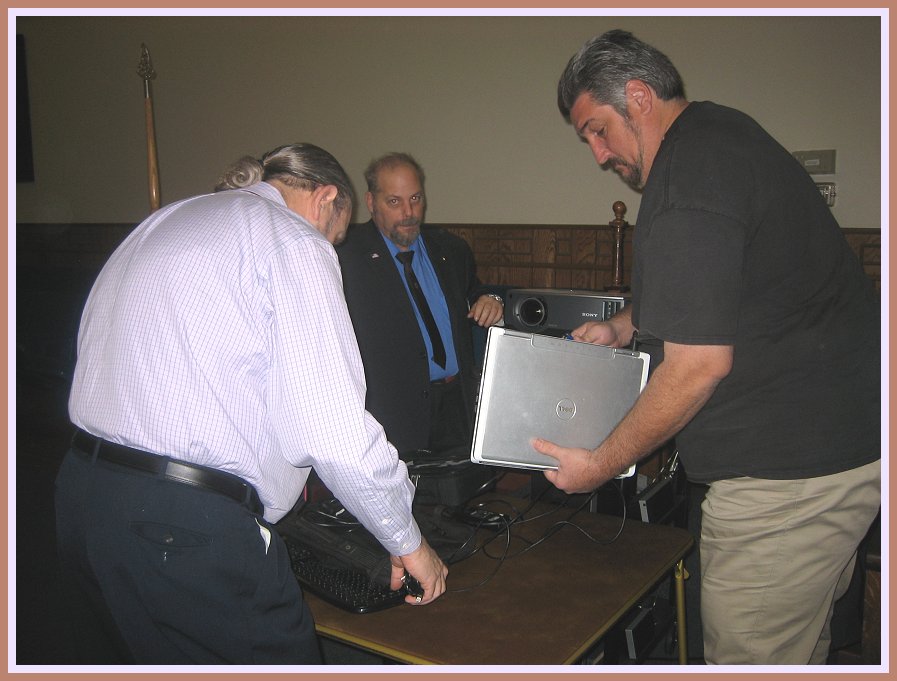 The set up for the presentation takes a little time. Left-to-right: Brother David Watson - Wor. Lee Plastik, PM - Wor. JR Knight, PM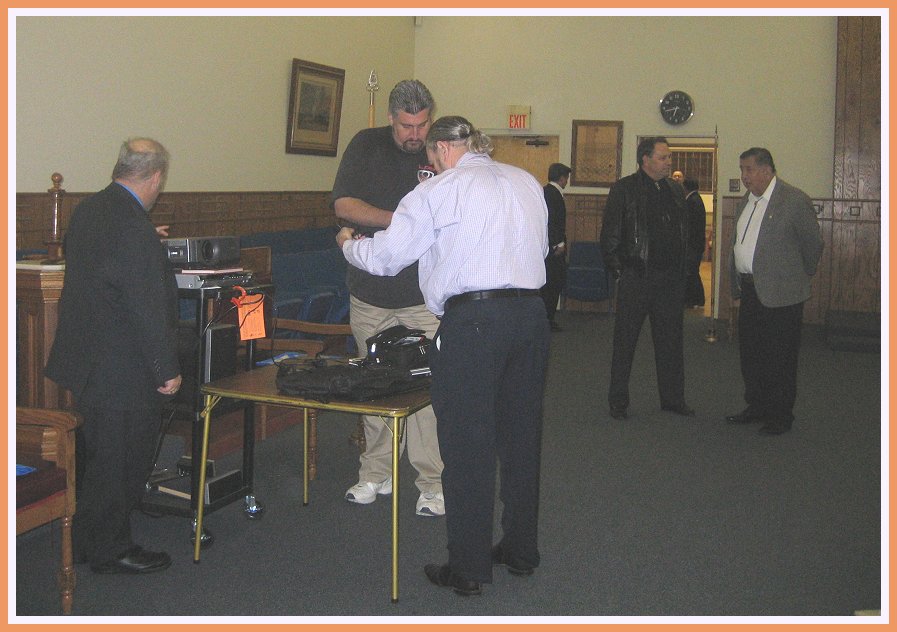 I think we finally have it figured out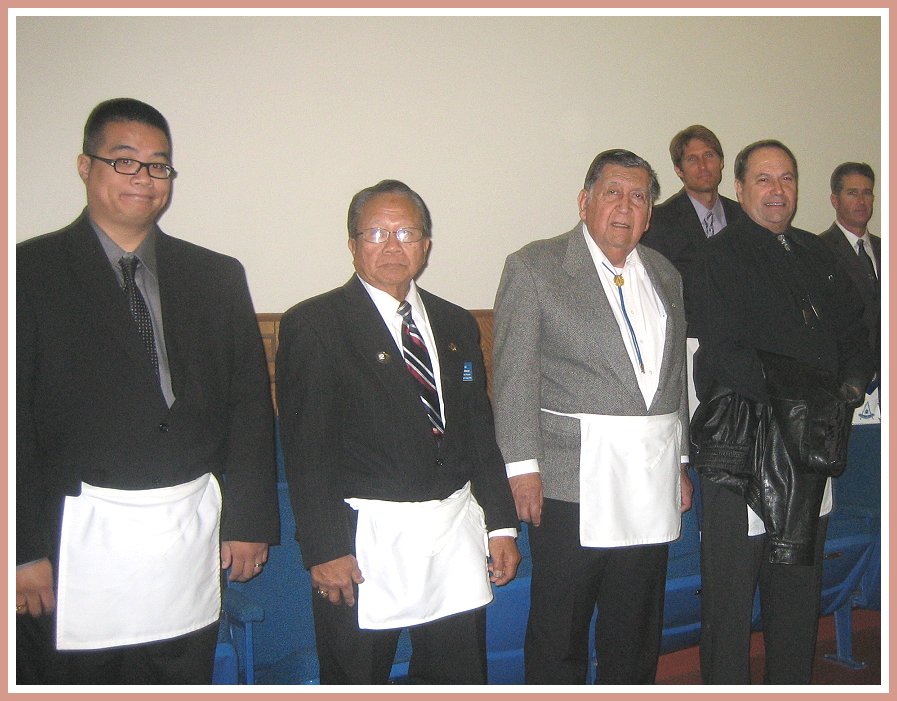 Left-to-right: Bro. Ryan Bacaoco - Bro. Al Almazan, JW - Wor. Abel Parra, PM, Master - Bro. Devin Breise (back) - Wor. Clint Black PM - Wor. Michael Allen, PM.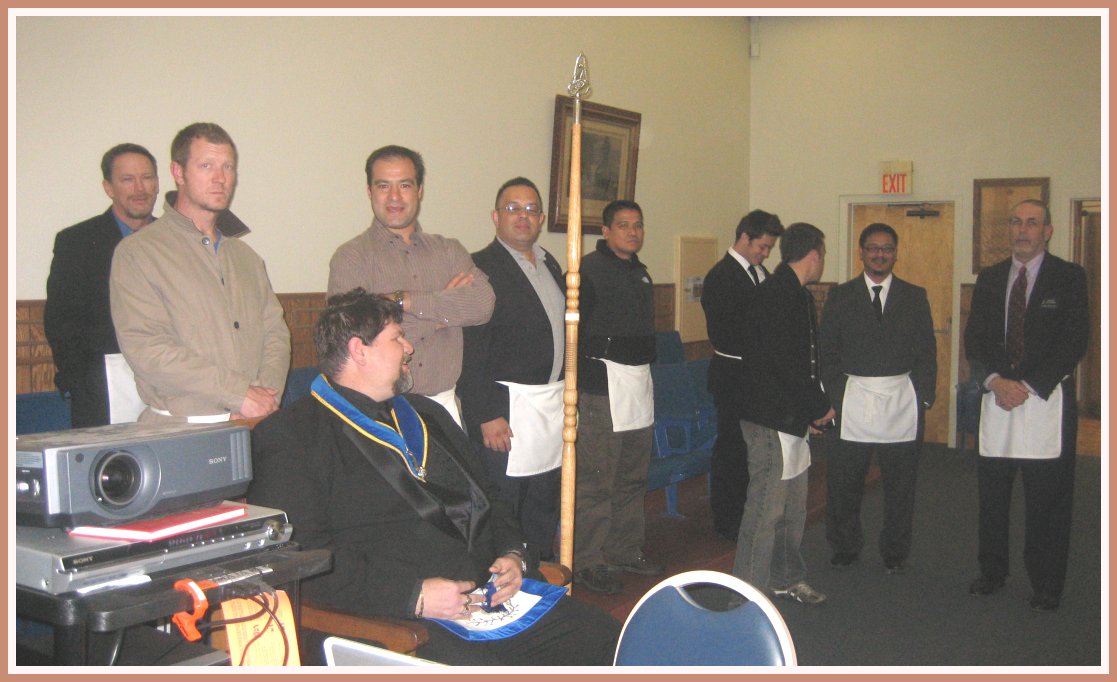 This picture has some visitors from Point Loma Lodge. I did not get the names and again I apologize for that, The best I can do is: Left-to-right of the first four in the picture are: Bro. Tex Perry (back) - Brother Eric McDonald - Bro. David Casper, (in JS chair) - and Bro. Alex Shpigel. On the far right of the picture is our featured speaker, Bro. David Watson.