On September 10, 2013, Samuel Warren Hackett lodge welcomes three new Entered Apprentices. Mr. Mark Helton, Mr. Steve Cumming and Mr. Israel Napoles joined the largest fraternity in the world by becoming Freemasons. Brothers Mark was obligated by Worshipful David Haslim, PM. Brother Steve was obligated by Worshipful Dick Covert, PM and Brother Israel was obligated by Brother Bob Salini, Junior Warden. Brother Salini, delivered a great lecture and Worshipful Haslim delivered a beautiful charge.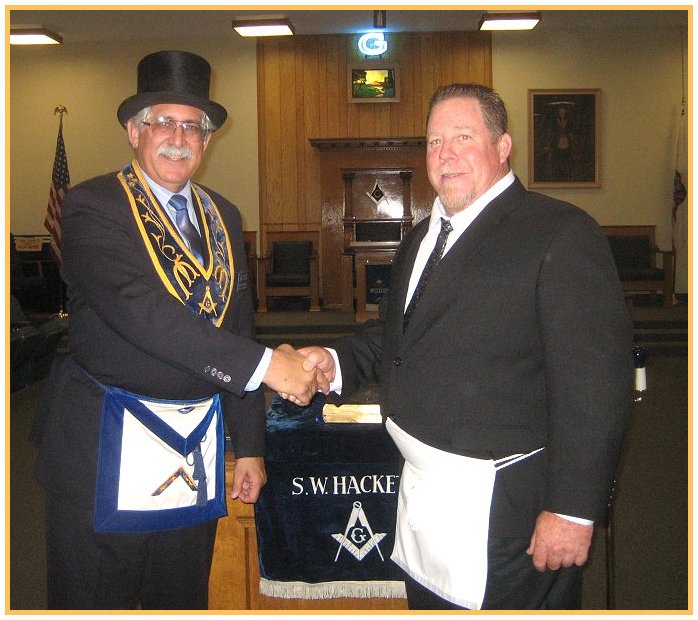 Worshipful Haslim, congratulates and welcomes Brother Mark Helton who he obligated.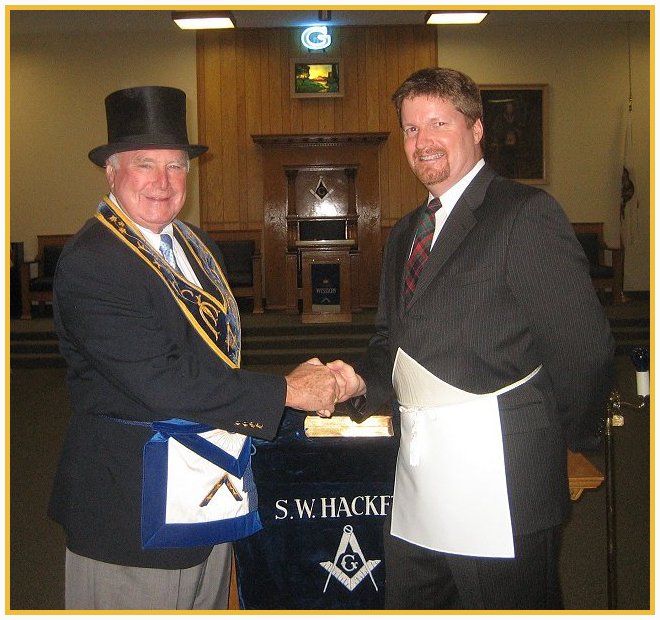 Worshipful Covert, obligated Brother Steve Cumming.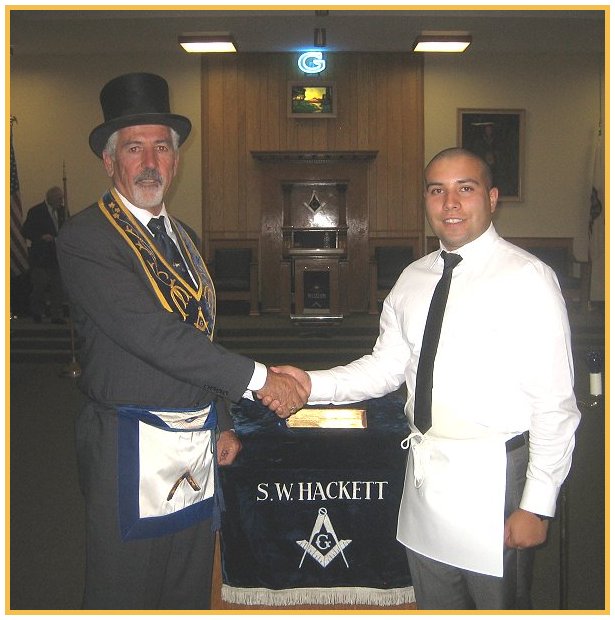 And, Brother Salini welcomes Israel Napoles as a newly obligated Brother.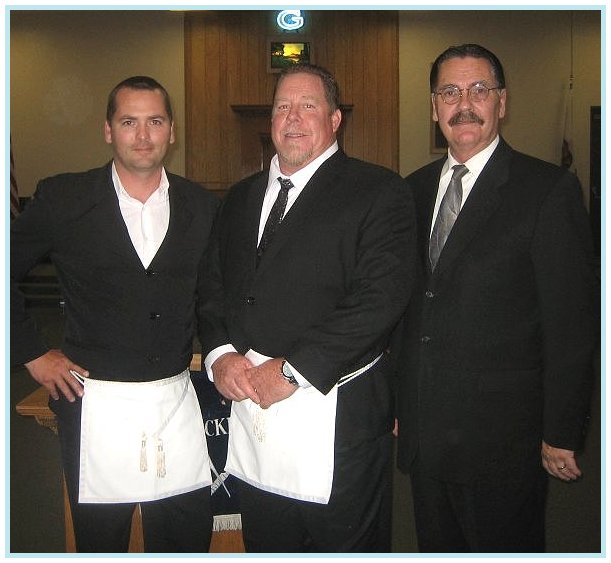 Friends Sean and Dennis Mac Dade congratulate Brother Mark Helton.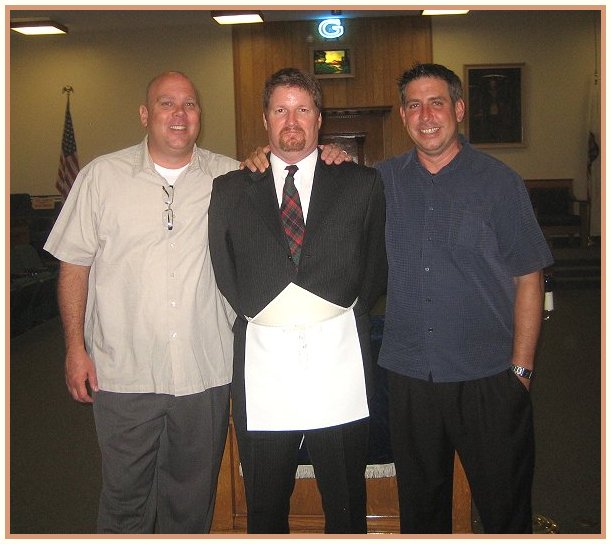 Brothers Eric Straub and Matthew Douvres congratulate their friend Steve Cumming on becoming a new Brother in the fraternity.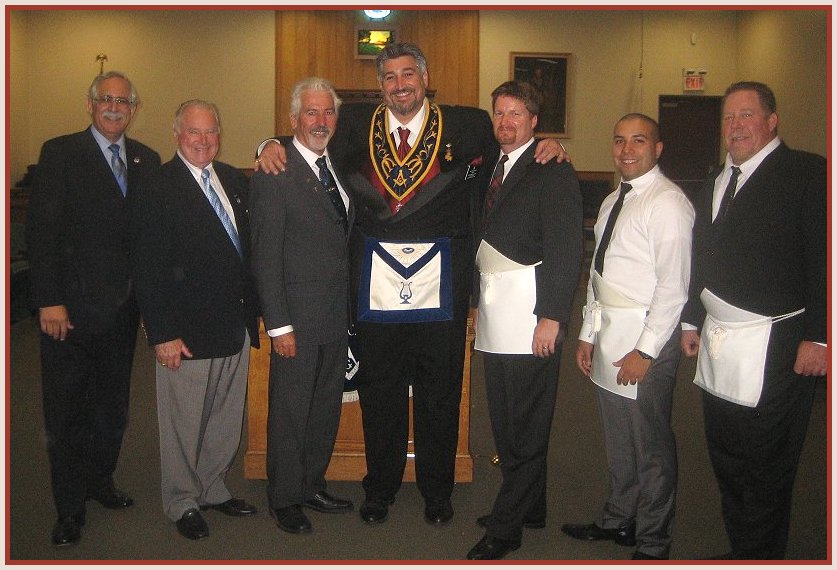 Worshipful "JR" Knight, PM, Master stands for a final pose with the Brothers who were in the East for the degrees and our newly obligated Brothers.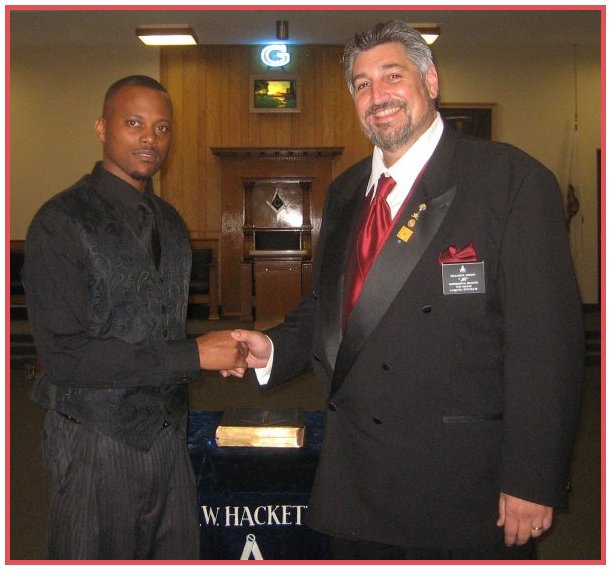 Worshipful "JR" welcomes Brother Dexter Brown to SW Hackett. Brother Brown moved here from Indiana and was just visiting for the degrees, but we in Hackett figure if you come in to our lodge, we like to put you to work. So, with his consent, Brother Brown assisted with the last of the three degrees by serving as the Junior Steward. By the way, he did a great job.
We look forward to Brother Dexter affiliating with our lodge.
Special thanks to Brother Don Heath, Senior Deacon of San Diego 35 Lodge for being the Junior Warden for Brother Israel Napoles' degrees.
Special thanks also to Worshipful Raymond Gray and the other Prince Hall Brothers from G.A. Thompson Lodge who joined us for this fun evening and celebration.